For millennia, people have been taught not to use drugs. Numerous celebrities have been scheduled to speak on the bad consequences of drug addiction in many secondary schools. But it appears that some pupils are not taking these lessons seriously. Secondary school is the only location where a person can learn a wide range of positive and negative experiences.
READ ALSO: Tammy Abraham And Tomori Also Arrives In Nigeria
Mankesim senior high school has been deteriorated to the point of collapse. This was after five of its students were caught on the internet abusing drugs. The students are uncomfortable in their interactions, as seen by one of them injecting what appears to be heroin. It could also be a harmful liquid substance. On the desk of the gentleman inhaling the cocaine, there was also a tablet that looked like tramadol.
READ ALSO: Who Wins Date Rush Viewers Choice Awards? Fatima, Ali, Des, Bella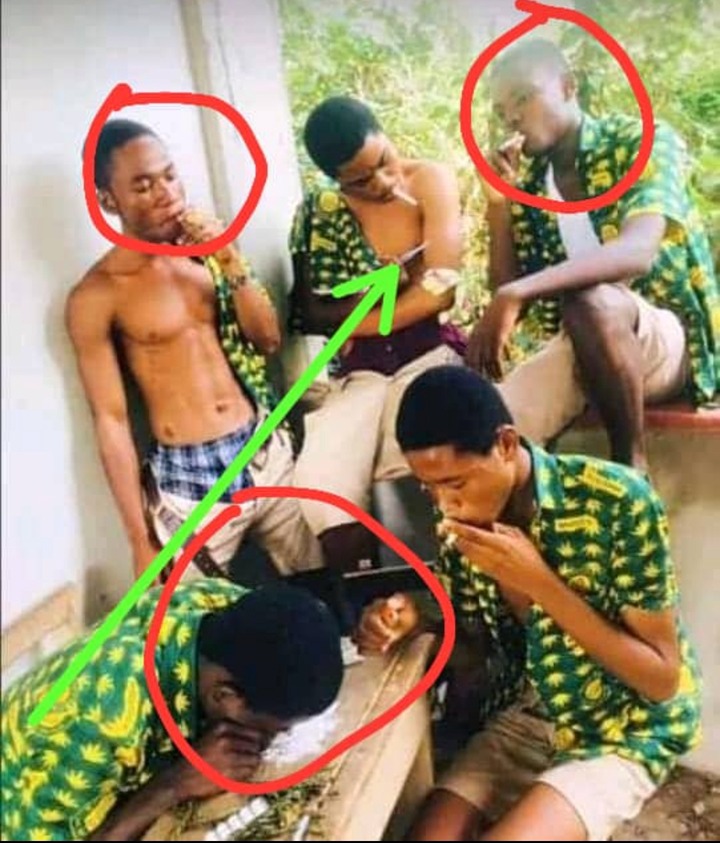 These are the same individuals that will graduate and go on to become future leaders in the country. The parents of these youngsters, in their blind zone, assume that their children are occupied with schoolwork.
What could really be cause of these students engaging in such acts? Could it be peer influence or lack of patent guidance? Is it also that the school disciplinery is down? Teachers are not able to control students?
READ ALSO: Date Rush: More Photos of Fatima and Bismarck Pops Up Online